While we work throughout the Eastern Half of North Carolina, nothing feels quite like home. We offer many properties For Sale in Wilmington, North Carolina our hometown location. When working with sellers in the local community it always brings a great sense of pride. With the area having boomed over the last several years Wilmington's Commercial Real Estate market is hot with both new development and redevelopment occurring at a steady pace. When looking across the verticals of Commercial Real Estate, Office Sales, Investment sales, Multifamily communities and Retail there is development occurring in all of these areas. We are proud to offer these great Commercial Real Estate properties For sale in The City Limits of Wilmington, for properties in the county please see our New Hanover County For Sale listing page.
– Please click the address for additional information about the property –
---
Confidential Restaurant Sale, Located in the Mayfaire/Landfall/Wrightsville Beach Corridor, this restaurant has seen nothing but a increase in business since it opened. Located in a great area of town. Owner is willing to step in and help run/train new ownership during transition period.
---
2,993 square foot Office Condo for Sale in midtown Wilmington. This space is great, it has a men's and women's room, a open floor plan ready to be demised or can be maintained for the open air feel. It even has a mezzanine area.
---
Great 1031 Investment. #3971 & #3973 are 2 units. All 3 units 2 up and 1 down leased and being offered at a 9 CAP. The two upstairs are 730 +/- SF which includes 3 offices, 1 bathroom, and a waiting area. The downstairs is 1,800 +/- SF which includes 8 offices, 2 bathrooms, and a conference room. Properties exterior was remodeled in 2009 with new siding and roof. Room for rent movement below market rates. Serene office park setting with beautiful live oaks surrounding the buildings. This property is on a major highway, close to downtown and area shopping center. Great opportunity to own a fully rented, income producing property in a great location.
---
Building 11,926 SF +/- School building located on the corner of Floral Parkway and Park Avenue Zoned RB Regional Business. 120 Feet fronting Floral Parkway and 320 Feet fronting Park Avenue. This is currently operated as a school that has 80 students enrolled and had 150. There are 10 classrooms, 6 bathrooms, 2 offices, lobby area, and kitchen. In addition you have a POOL, lounge, and storage space! This building is also being offered for lease as well at $8.00 PSF. Business is not for sale just grounds and building.
---
Being Offered at 7.6% CAP with and 2.5% per year increase. Stand alone brick industrial building. 6,500 SF with 3,300+/- SF office and 3,250+/- SF Warehouse. Four drive in doors. Fenced Yard. Tenant National maintenance organization contractor for GE Nuclear power plant with year lease (3 remaining and two 5 year extensions with 2.5% bumps per year. Tenant will extend 5 years on lease.)
---
1st floor condo 825 +/- SF Unit 3A located in Wrightsville Office Park. with reception area, two private offices, bathroom, kitchenette, and storage room For Sale. Available immediately. This property is centrally located in the City of Wilmington near the Mall, Downtown, Hospital, University Areas. This property is ready to go for a first time business that is looking to leave the incubator/garage and get a professional space. **Owner Financing**
---
1st floor condo 725 +/- SF Unit 3D located in Wrightsville Office Park. Large reception area, two private offices, bathroom, kitchenette, and storage room For Sale. Available immediately. This property is centrally located in the City of Wilmington near the Mall, Downtown, Hospital, University Areas. This property is ready to go for a first time business that is looking to leave the incubator/garage and get a professional space. **Owner Financing**
---
This is an Asset Sale not a gross revenue sale ** 18-Hole Championship Golf Course consists of 160+/- Acres located within a gated community in New Hanover County, Wilmington Metro Area known as The Cape. Sale based on assets not revenue! This property was purchased in 2008 and the current owner renovated investing in buildings, irrigation equipment and system, all new equipment and reopened in 2009 to the public with state of the art features and facilities. The course is only One of Three public courses with a daily fee in New Hanover County. The rounds reported in 2015 were 23,403 and double digit growth has been generated three years in a row.
Course has just added a professional management firm to run the golf business and has seen dramatic up tic in sales.
---
This is a rare investment sale. The national breakfast chain, Waffle House, has leased a new location in the heart of downtown Wilmington. Located at 255 N Front Street, this is a rare opportunity to purchase a Waffle House lease with 14/15 years remaining on the lease term. Tenant rental commencement has started. Tenant is planning to begin their remodel upon completion of permitting with the City of Wilmington for a 2016Q4-2017Q1 opening date. Seller to condo unit prior to closing as it is currently part of entire structure. Entire building available for sale as well. Contact us to get a NDA for financial information as it pertains to this investment opportunity.
---
This Property is located at the corner of Market Street and Middle Sound Loop Road behind AutoZone and Bojangles. The Property will have connectivity to Lendire Road once the DOT reroute is complete. This will provide direct access for this site to the entire Gordon Woods Neighborhood. Across from the soon to be built Publix Anchored Center this property is in a prime location and ready for development.
---
The Developer of this parcel is currently selling out parcels and a large tract of this property. Developer plans on developing the acreage and will Build to Suite for National Credit Tenants, Ground Lease or sell pads. Property is currently raw land in Northern Wilmington, Growing Ogden/Kings Grant area. Property Located Between: I 40 and Hwy 17 on Gordon Rd
Property Visibility: Excellent
Largest Nearby Street: I-40/N. College Road
Feet of Frontage: 2,600
Traffic/Vehicle Count: 86,000 Cars Per Day
---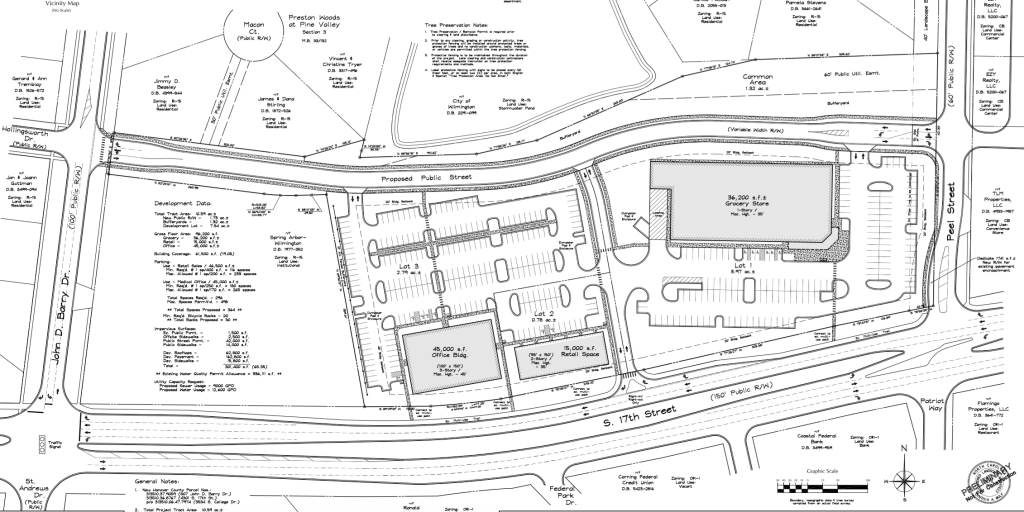 This is a new grocery anchored development in Mid Town Wilmington NC. This site is located on 17th Street Extension and is comprised of nearly an entire city block. The property runs from Peel Street to John D Barry and is approximately 12 acres. We are now Pre Leasing the additional shop space at this center or we will sell pads to qualified developers.
---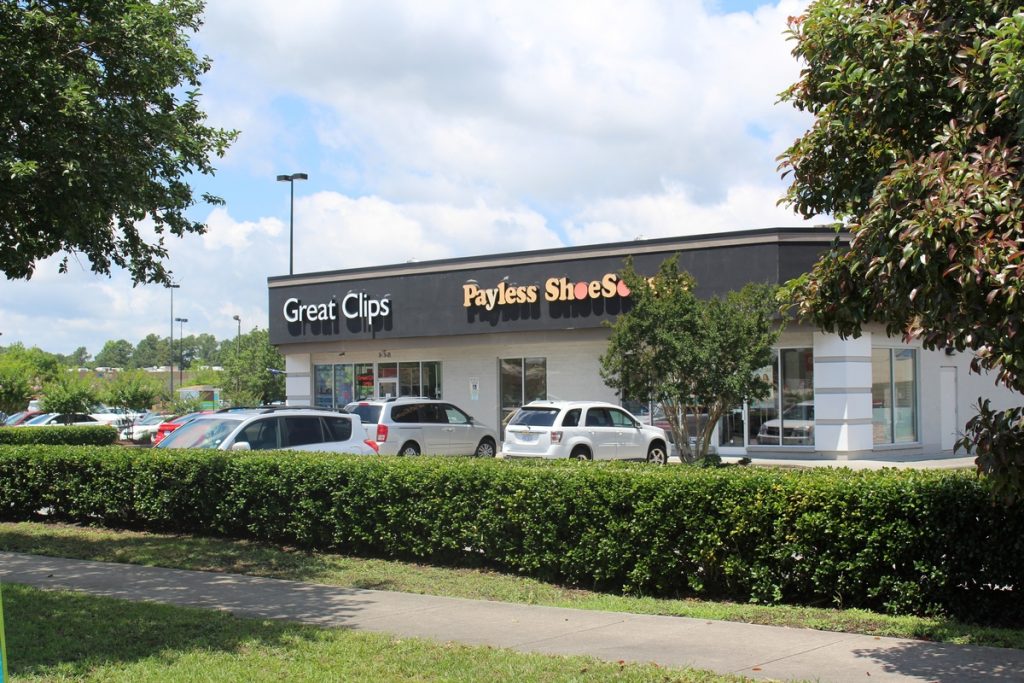 3, 795 SF Retail Investment Sale
This opportunity is in a prime position on South College Road for stability in its Tenancy. This property has Two National Tenants with Term and Options at above Wilmington Market Average rents. For their submarket they are slightly below market rentals, which have increased over the last several years. The property is prominently featured at the Main Entrance to a Regional Power Center. Located across the street from another shopping center at the HUB for midtown Retail/Commercial this property is both a income investment and long term real estate holding. Properties located like this are hard to come by.
---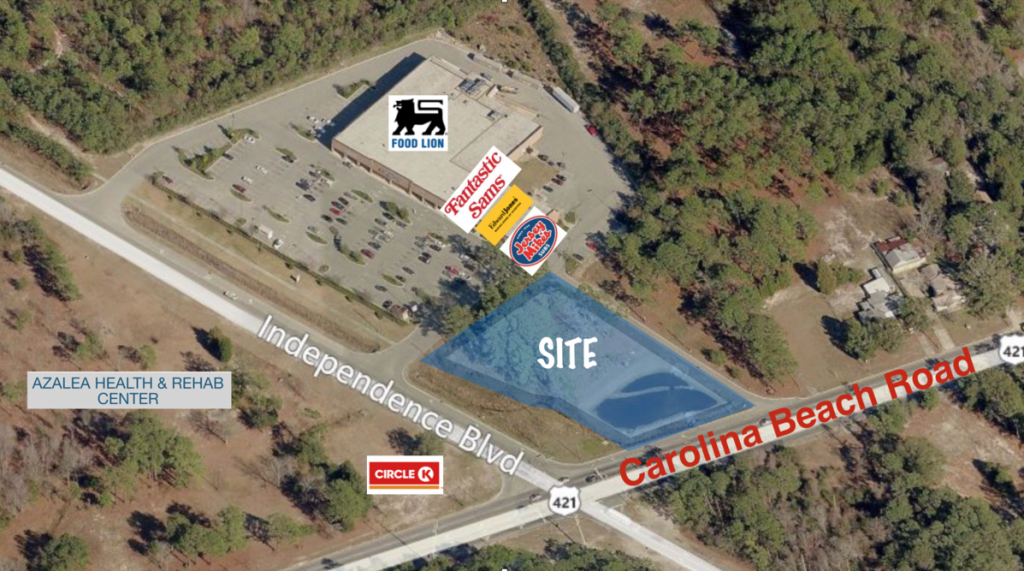 1.68 Acre Outparcel
This 1.68 acre outparcel sits at the North East Corner of the Intersection of Carolina Beach Road and Independence Blvd. There is access per deed to use the storm water pond. Roughly 1.13 acres +/- are buildable as the stormwater pond is using .49 acres. Access is internal no direct access to Carolina Beach Road or Independence Blvd. This property sits at a hard corner in the hub of new development in the area, back by a grocery anchored center, this property is a prime development opportunity for a owner occupier or developer. Deed Restrictions are in place as per use on the property. Those can be disclosed as part of the due diligence process. Close to River Lights, The Point at Barclay, Echo Farms and The Port of Wilmington.
---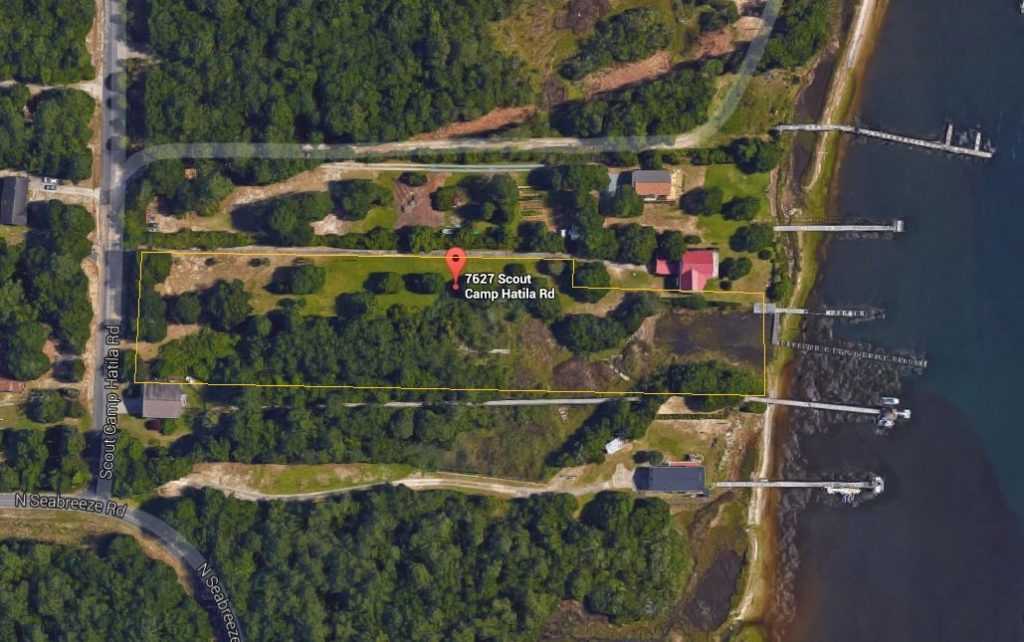 Potential 4-12 Lot Subdivision for Sale
Several small tracts combine to provide right now 4 lots with boat dock and 4 slips. Ability to expand to 12 lots and 12 slips is present. This is a bulk sale, for a development to be finished by purchaser.
For more information please request an NDA and we can provide necessary documentation.
---
Unable to locate what you're looking for here? Please contact us and we are more than willing to help you locate a property which will suit your real estate needs.