How We Assist Our Clients
Eastern Carolina's Commercial Real Estate offers a wide spectrum of Commercial Real Estate Services. Below is a brief synopsis of the various ways we can assist you. Our Regional approach through partnering with brokers in other markets allows us to represent clients from Wilmington, North Carolina to other locations such as Charleston South Carolina, Myrtle Beach South Carolina, Fayetteville North Carolina, Greenville North Carolina and even as far north as Elizabeth City North Carolina. The Eastern Carolina Region is defined by these two area maps, which is out current coverage area in North Carolina.
ECCRE Coverage Area in North Carolina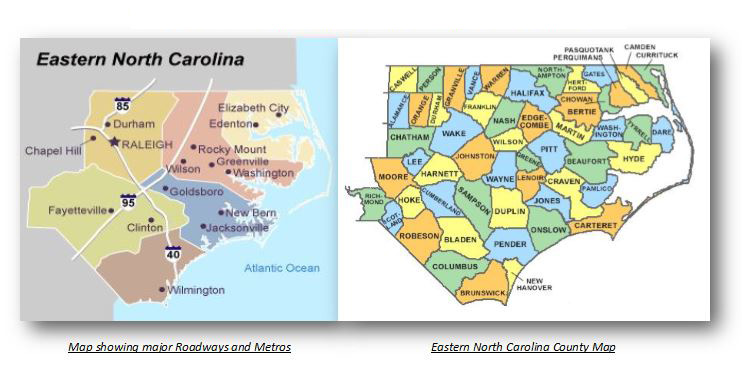 A brief Synopsis of how we deliver Real Estate Solutions in Real Time for our clients and customers
Consulting Services
Sometimes brokerage services aren't needed. We have information on services we provide at a hourly rate outside of brokerage which are real estate related. Competitive Analysis, Marketplace Intelligence, Coordinating a rezoning effort preforming a Brokers Price Opinion. We look forward to working with you.