"Real Estate Solutions delivered in Real Time"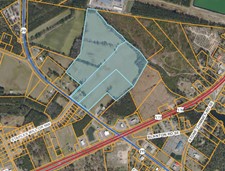 Aerial view of the 50+ acres outlined
Garry Silivanch and Parker Pelham of Eastern Carolinas Commercial Real Estate represent the Galloway Family and their three parcels of land consisting of 50.79 +/- acres.  The property is approximately 850 +/- ft from Hwy 211 and Hwy 17 intersection's present location.  These parcels were rezoned to CLD- Commercial-Low Density to accommodate the DOT's recent announcement on May 16th, 2019, of project U-5932; the roadway improvement plans for the intersection of US Hwy 17 and NC Hwy 211 (Green Swamp Road) in the year 2025.

DOT Roadway Improvements & Current Business Locations
The DOT plans to remove the grade level intersection and create a new intersection, removing the traffic light and adding an overpass so that Hwy 17 will now go over Hwy 211.  Once the DOT completes the interchange the Subject property will be approximately 300 +/- Ft from the on and off ramps.  The existing businesses located adjacent to the Subject property will be acquired through eminent domain.  Local, regional, and national businesses like Well Care health, Circle K, Bojangles, Hardees, and McDonalds will need to relocate.  The properties with the new zoning will now be able to relocate within proximity to their existing location.  The Subject property will have highway frontage after the completion of the DOT roadway improvements.  The parcels have access to water and sewer and now with CLD zoning these parcels will create a commercial hub for office, retail, hospitality uses, and potential multifamily residential/apartment complexes.
For more information, please contact the Eastern Carolinas Commercial Real Estate, Garry Silivanch or Parker Pelham at (910) 399-4602.