Thermo Fisher Scientific Announces PPD Building For Sale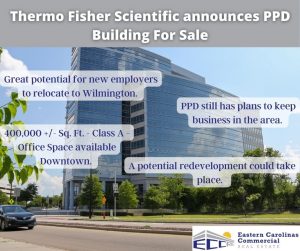 HOT TOPIC ALERT: The sale of the PPD building downtown Wilmington leads to many potential opportunities for the area. The sale consists of 400,000+/- sq ft of class A office space for a larger employer to expand or bring more office users to New Hanover County. There is also a redevelopment possibility which could widen your ranges to seeing a new hotel or apartments.
Click the link below to read the comments made by one of our partners, Nick Silivanch!