How we assist our clients by being more than a sign in the ground and a body that shows up.
Eastern Carolina's Commercial Real Estate offers a wide spectrum of Commercial Real Estate Services. Below is a brief synopsis of the various ways we can assist you. Our Regional approach through partnering with brokers in other markets allows us to represent clients from Wilmington, North Carolina to other locations such as Charleston South Carolina, Myrtle Beach South Carolina, Fayetteville North Carolina, Greenville North Carolina and even as far north as Elizabeth City North Carolina. The Eastern Carolina Region is defined by these two area maps, which is out current coverage area in North Carolina.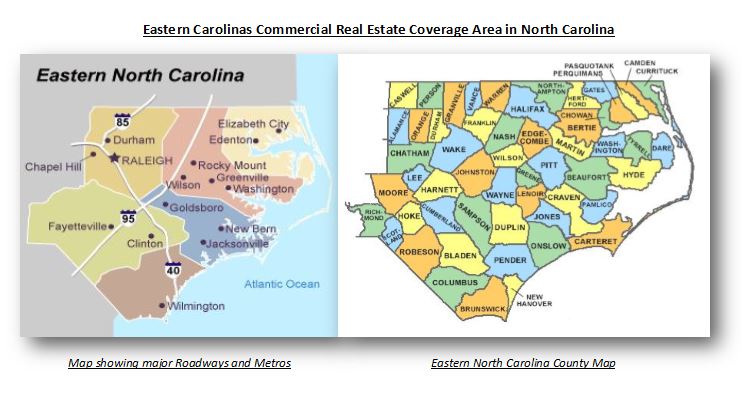 A brief Synopsis of how we deliver Real Estate Solutions in Real Time for our clients and customers. Click on the Heading to be redirected to each page or use the drop down menu to access any of the content.
Working With Real Estate Agents –
Please review this page and the forms attached. We will discuss it when next we speak. The North Carolina State Real Estate Commission has created this form alerting you to the roles and expectation of services you may receive when interacting with a Real Estate Brokerage Firm and its Broker/agents. This form is not a contract but is one that is important for you to review and consider. Per deal we have a Working with Realtors form completed and is an important compliance item for Real Estate Brokers.
Acquisition – Buyer Representation
Purchasing a Property is a carefully thought out process. Each Clients investment criteria is unique and diverse, from the scouting of a site for a retail development to reviewing properties to expand your business, or you may be looking for a certain ROI or CAP Rate. Eastern Carolinas Commercial Real Estate is ready to Represent you and deliver on your investment criteria.
Disposition – Seller Representation
Selling your property can be a big decision. Pricing is a large part of the decision, but a sales strategy for your property is also key to ensure a successful closing. Eastern Carolinas Commercial Real Estate represents multiple property types from various clients. Lets Discuss how we can help you make the right decision when considering a sale of your property.
Landlord Representation – Leasing
Leasing your property is important, negotiating lease terms that are beneficial to both the Landlord and the Tenant. But Eastern Carolinas Commercial Real Estate doesn't stop there. Reviewing your properties current tenancy and potential future tenancy, advising on how to maximize the potential rental income and positioning of the center for maximum marketing exposure are all part of what we do.
Tenant Representation – Leasing
Looking for a spot for your concept? Second location? National Franchisee looking to establish a foothold in a marketplace? Eastern Carolinas Commercial Real Estate has the market intelligence and skill set to help you maximize your real estate location prior to opening.
Consulting Services
Sometimes brokerage services aren't needed. We have information on services we provide at a hourly rate outside of brokerage which are real estate related. Competitive Analysis, Marketplace Intelligence, Coordinating a rezoning effort preforming a Brokers Price Opinion. We look forward to working with you.
Residential Realtor Referral Program –
Eastern Carolinas Commercial Real Estate is a Commercial Real Estate firm only. We do not practice Residential Real Estate, we can Refer you to a residential broker if you are interested in Residential properties. In Addition we have created a program specifically tailored to the Residential Realtors in the Eastern Carolina's. Why? As a Residential Realtor you may be leaving money on the table with potential clients who have a commercial property they are looking to sell or purchase and with all of the deal specific items a commercial sale or purchase entails, Referring the transaction to ECCRE will allow for you to earn a fee on the completion of the transaction. We look forward to working with you.