****Currently Under Construction *****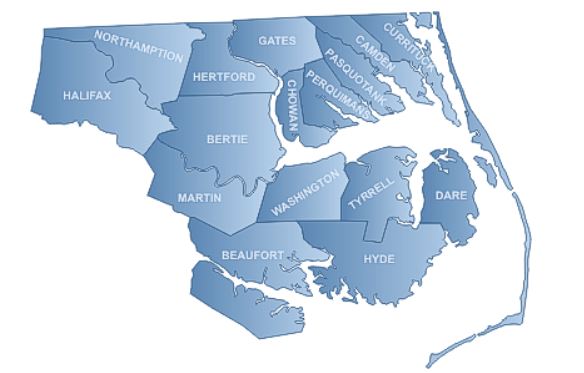 North Eastern North Carolina overview map, courtesy of North Carolinas North East
North Eastern North Carolina has a history of being a agricultural hub for the eastern region of North Carolina. The Business clusters that they are now fostering are from Aerospace and Automotive to Biotechnology and Renewable Energy. The region which fostered the Wright Brothers First Flight continues to move forward in attracting businesses, retirees and development.
The Coastal Counties here have excellent fishing and are a featured site of the TV program Wicked Tuna.
For more information on each counties Economic Development Agency please click the Appropreiate link below.
In Alphabetical order by County
Beaufort County Economic Development Agency                                   Northampton County Economic Development Agency
Bertie County Economic Development Agency                                        Pasquotank  County Economic Development Agency
Camden County Economic Development Agency                                    Perquimans County Economic Development Agency
Chowan County Economic Development Agency                                    Tyrrell County Economic Development Agency
Currituck County Economic Development Agency                                 Washington County Economic Development Agency
Dare County Economic Development Agency
Gates County Economic Development Agency
Halifax County Economic Development Agency
Hertford County Economic Development Agency
Hyde County Economic Development Agency