"Real Estate Solutions delivered in Real Time"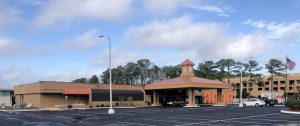 Eastern Carolinas Commercial Real Estate Inc is excited to announce that the Property located at 4903 Market Street, where currently the Budgetel and Motel 6 are located was approved to transition from hospitality zoning to Multifamily High Density. This will turn the two flagged property into 234 efficiency unit rentals in the middle of market street. The developer also agreed to lock 10% or 23 rooms in as designated affordable housing.
From John Hinnant, Vice President "On behalf of our clients, the Badhiwalas, we are very excited to cross this important threshold in the sale of their property. Conversions of hotels like this are very popular around the country and we believe this, along with other deals we have and are brokering will help to improve and beautify the Market Street corridor. Since the improvements to the intersection at Market and Kerr, the properGes along that corridor have become more appealing to investors and developers. With the amount of land available for development in New Hanover County dwindling, it is only reasonable to believe that repurposing existing properties will be a key part of the future of our community."
From Nicholas Silivanch, Partner "This rezoning and adaptive reuse of what the city deemed to be a blighted area in our community will help change the Market Street Corridor in the short term and in the long term. The property will bring new rental units for the students who are graduating, the single upwardly mobile young professionals, those who are relocating and the need for affordable rentals together. By adaptively revising the existing structures the project will actually add tress and not further complicate existing stormwater issues. The adaptive reuse of the facility, will allow the Vivo to bring a much needed product to our market. The success of the Vivo concept around the naGon and in other marketing in North Carolina, in providing affordable rental units with class A ameniGes has been tremendous. The only issue that we face now in the City is that they did away with the zoning classification we just received, of high density which allows for the property to be re-used as it sits today.
With smaller parcels and pricing adaptive reuse of properGes like these will become more and more the norm, not the pariah in the the years to come."
For more information please contact the Hospitality team for the property, Nicholas Silivanch or John Hinnant at (910) 399 4602.