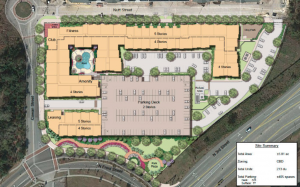 Eastern Carolinas Commercial Real Estate is excited to announce the recent closing on a $4.3 Million dollar sale by Partner/Broker Nicholas Silivanch and David Branton, who represented the buyer on the contract.
The purchaser plans to start construction on the apartments in the spring. The Developer who has also developed the Flats at Mayfaire, is excited to now turn his eye toward downtown. He was attracted to the site due to the new planned amphitheater and park space.The Location on the North Side of Downtown will provide great amenities to tenants.
The developer represented by ECCRE is still looking for more sites to acquire.
Please see the Greater Wilmington Business Journal Article about it by clicking here.